June Specials
June 1st – 28th
 Rjs Craft Winemaking/ Vineco/ winexpert
RJS Craft Winemaking
 $146 was $154
South Africa Chenin Blanc 
The fruity nose has hints of green apple and lemon with a subtle floral bouquet. On the palate, true to its South African origins, it is delightfully refreshing.
Food Pairings
Perfect with sushi or Italian fried and stuffed rice balls (Arancini di Riso).
French Rosé
Made in the classic French rosé style, it is light bodied and pink in colour with spiced strawberry and crisp, citrus aromas. The palate features fresh strawberry flavours with a refreshing fruity finish.
Food Pairings
Try with Italian paninis or an Israeli cous cous salad.
Niagara Baco Noir 
Abundant red fruit, spice, and sweet smoke notes on the nose draw you in. The full-bodied palate and signature long smoky finish are true to character for this unique Niagara variety.
Fermenting your wine on GenuWine Winery Dried Grape Skins will add deep hues, enhance the bouquet, and promote chewy tannins for a lingering finish.
Food Pairings
Pairs well with red meats of any kind including barbeque ribs, burgers and smoked brisket.
California Syrah
Raspberries and peppery spice blend in harmony to create an elegant flavor with soft, balanced tannins and a lingering, smooth finish. This is a California wine at its best.
Fermenting your wine on GenuWine Winery Dried Grape Skins will add deep hues, enhance the bouquet, and promote chewy tannins for a lingering finish.
Food Pairings
Try with teriyaki beef or Shanghai stirfry and cabbage.
**************Vineco*************
Legacy
6 week wine
 $170 now $160
General Kit Information
Bringing the tradition and heritage of premium wines into your home.
LegacyTM ultra-premium 6 week wine kits are skillfully blended from vintage-class varietal grape juices and concentrates from renowned wine producing countries around the world. Each kit comes complete with everything required to make exceptional wines to enjoy on any occasion. Legacy wines will develop even richer characters with traditional cellar aging.
Primo Rosso
Primo Rosso is a full-bodied powerful ruby red wine with incredible depth and complexity. Aromas of cloves, nutmeg, black licorice and candied fruit and flavours of black cherry and blackberry with hints of spice and warm oak. A perfect complement to all red meats and full flavoured dinners.
OAK Yes
BODY Full
ALCOHOL 14%
KenRidge® Classic             
$145 now $135
General Kit Information
4 week wine
Timeless, elegant and inspiring. Wines to compliment your most memorable moments.
Every KenRidge® Classic wine kit produces outstanding quality wines with distinctive flavours, bouquet and character using only the highest quality varietal grape juices and premium concentrates You will be proud to serve KenRidge®Classic traditional varietals and blends to family, friends and discerning wine connoisseurs.
Each 10 litre wine kit produces 23 litres in as little as 4 weeks.
Chardonnay
Aromas of ripe tropical fruit and crisp green apple with subtle undertones of oak. A medium-bodied wine with a lemony finish. A superb wine along side stuffed turkey and chicken dishes.
OAK Yes
BODY Medium
ALCOHOL 12%
World Vineyard  
4 week wine
$146 now $136
World Vineyard™

Wines from Australia, California, South America and Europe are represented in the World Vineyard Collection. These wines are perfect if you enjoy versatile wines which don't require extended aging but still offer distinct flavours from some of the great wine regions in the world.
Ready in 4 weeks

Müller-Thurgau (Moo-lehr Tirr-gow) Delicious flavours apricot, green apple and peach aromas of Riesling, and the early ripening qualities of Silvaner.A great sipping wine, it's a perfect choice for potato chips (there's nothing like a crisp glass of Müller-Thurgau and some crunchy chips!) but mostly it's a very satisfying wine to quench a thirst in good company.
Ready in 4 weeks

This reputable Merlot is a soft and supple variation with powerful fruit and spicy flavours. Renowned for its ripe cherry character, the Merlot is a perfect partner for red meats, lamb, and hearty stews. A must have on those crisp autumn evenings.
Vintners Reserve™

Easy to make and easy to enjoy, Vintners Reserve wines offer excellent quality flavours and aromas and there almost 30 available styles to choose from.
$136 was $146
4 week wine
Ready in 4 weeks
Germany's most popular varietal, this wine is refreshing and well-balanced with a smooth full-body and a crisp finish. A great match with seafood and chicken entrees.
This uniquely Californian treat is a pleasure to savour fully chilled, literally bursting with sweet fruit flavour and a refreshing, softly fruity finish.
Wine Coolers for the Summer!
ORCHARD BREEZIN
Watermelon Grapefruit
This limited release wine will delight your palate with fresh, juicy watermelon and vibrant grapefruit zest, complemented by pink grapefruit notes on the nose. Perfect for summer sipping!
Spring blow out!
Regular price $130 now $110
Until quantities last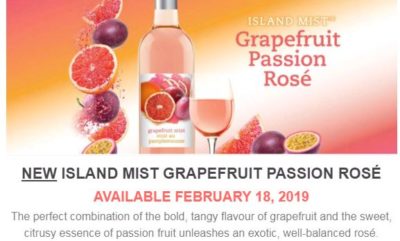 $130 for 30 bottles