April Specials
April 1st – April 26th
Rjs Craft Winemaking/ Vineco/ winexpert
RJS Craft Winemaking

 $165 was $175
A treasure for wine enthusiasts looking to try new grape varieties and wine styles from around the world.
This modern New World white highlights the apricot and floral notes of Viognier, the minerality of Riesling, and the tropical aromas of Chardonnay.
Food Pairings
Serve with chicken and root vegetables or grilled fish, potato and mushrooms.
This popular Australian white blend is extremely aromatic, opening with apricots and pear notes and finishing on a refreshing fruit forward note.
Food Pairings
Serve with roasted turkey and dried fruit sauce or spicy fish cakes.
Made from the prized Nebbiolo grape, this wine features flavours of violet, cherries, and cocoa. Undertones of toasted oak, dark fruit and firm acidity dominate the long finish.
Food Pairings
Enjoy with rack of lamb, mushroom lasagna or garlicky grilled beef.
This deep ruby red wine with aromas of tobacco, ripe plums and black cherries will remind you of Tuscany. The palate offers explosive notes of blackberries, prunes, and vanilla.
Food Pairings
Serve with penne alla vodka or chicken parmigiana.
Vineco
All European Select 4 week kits made in store
$118
KenRidge® Classic                         
$145 now $135
General Kit Information
Timeless, elegant and inspiring. Wines to compliment your most memorable moments.
Every KenRidge® Classic wine kit produces outstanding quality wines with distinctive flavours, bouquet and character using only the highest quality varietal grape juices and premium concentrates You will be proud to serve KenRidge®Classic traditional varietals and blends to family, friends and discerning wine connoisseurs.
Each 10 litre wine kit produces 23 litres in as little as 4 weeks.
Riesling
Floral and fruity aromas of apricot, pear and apple. Sweet citrus flavours followed by a crisp, zesty finish. This Riesling is a great companion for lively lemon chicken, seafood and cream sauce pasta dishes.
OAK None
BODY Light
ALCOHOL 12%
Vieux Château Du RoiTM
A classic blend creating a rich full-bodied wine with a bold bouquet of ripe fruit and complex flavours of berries, spice and plums. Try this fruit forward blend with grilled red meats and aged Canadian cheddar. Includes premium American oak.
OAK Yes
BODY Med-Full
ALCOHOL 12%
Legacy™
6 week wine
$170 now $160
General Kit Information
Bringing the tradition and heritage of premium wines into your home.
LegacyTM ultra-premium 6 week wine kits are skillfully blended from vintage-class varietal grape juices and concentrates from renowned wine producing countries around the world. Each kit comes complete with everything required to make exceptional wines to enjoy on any occasion. Legacy wines will develop even richer characters with traditional cellar aging.
COMPLETED: 6 Weeks
VOLUME: 16L / 4.22 US GAL
Riesling
A light straw colour with hints of citrus and floral on the nose. A zingy wine with crisp fruity flavours of citrus, apricot and honey. Great with salty dishes, antipasto plates and spicy Asian dishes.
SWEETNESS 2
OAK None
BODY Light
ALCOHOL 12%
Valroza®
This ruby red wine is fresh and dry with rich fruit flavours and is perfect to be consumed early. Great with warm roast beef sandwiches and pastas.
OAK None
BODY Medium
ALCOHOL 12.5%
World Vineyard  
4 week wine
$146 now $136
World Vineyard™

Wines from Australia, California, South America and Europe are represented in the World Vineyard Collection. These wines are perfect if you enjoy versatile wines which don't require extended aging but still offer distinct flavours from some of the great wine regions in the world.
World Vineyard™

Ready in 4 weeks

    

Supple and slightly buttery, this wine lingers on the palate with layers of toast and spice. Extremely versatile with foods, this is the red wine' of white wines, combining beautifully with grilled pork, chicken, fish, salads and cream-based pasta sauces.
World Vineyard™

Ready in 4 weeks

    

Australia's route to fame on the world wine stage, Shiraz from Down Under offers lush berry aromas that beg for a hearty whiff. A wine of ripe fullness, its concentrated blackberry fruits and fragrant spiciness are a delight on the tongue. It has the uncanny quality of allowing early consumption despite its complexity and bigness'. Robust and lively, Australian Shiraz is a savoury treat.
Vintners Reserve™

Easy to make and easy to enjoy, Vintners Reserve wines offer excellent quality flavours and aromas and there almost 30 available styles to choose from.
$136 was $146
4 week wine
Vintners Reserve™

Ready in 4 weeks

    

Medium-bodied with lightly fruity aroma, soft flavours and a velvety mouth-feel. Refreshing both as a sipping wine, and as a match with cream sauce dishes, light cheeses and delicate meats.
Vintners Reserve™
Ready in 4 weeks
Richly complex with fruity as well as spicy characteristics, the strawberry-blackberry nose leads to a velvety full finish. Ageing uncovers further complexity.
Now available!
Start yours for the upcoming summer
ORCHARD BREEZIN
Watermelon Grapefruit
This limited release wine will delight your palate with fresh, juicy watermelon and vibrant grapefruit zest, complemented by pink grapefruit notes on the nose. Perfect for summer sipping!
Spring blow out!
Regular price $130 now $110
Until quantities last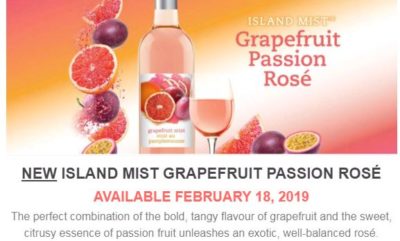 $130 for 30 bottles