February 2020 Specials
February 1st – February 28th
Let's hope the ground hog is right!
February specials apply to brew on premise only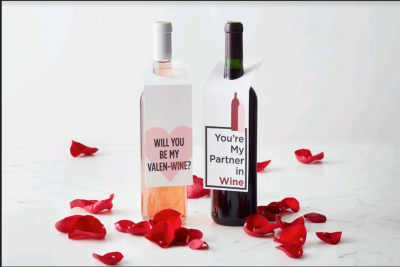 Show your love with a Gift Certificate for Valentines Day!
 Rjs Craft Winemaking/ Vineco/ winexpert
RJS Craft Winemaking

$188 was $198
7 week wine
Italy
Super Tuscan
An assertive wine with aromatics of fresh raspberries supported by subtle hints of vanilla and earth. A concentrated palate of blackberries and black pepper with firm tannins.
Fermenting your wine on GenuWine Winery Crushed Grape Skins will enhance the bouquet and contribute soft velvety tannins for a round, juicy mouthfeel.
Food Pairings
Great with slow-cooked beef and pork or aged cheese.
Winemaker's Trio Red 

 (If you like Apothic, this is for you!)
A modern, new world style wine featuring a blend of Cabernet Sauvignon, Syrah and Zinfandel. Aromas of vanilla, red berries and black cherries and sweet flavours of ripe raspberry, chocolate and cherry.
Fermenting your wine on GenuWine Winery Crushed Grape Skins will enhance the bouquet and contribute soft velvety tannins for a round, juicy mouthfeel.
Food Pairings
Pairs great with BBQ beef, potato salad, coleslaw and french fries.
Chile Malbec
A brilliant bouquet of dark fruits with subtle hints of oak, vanilla, and spices. Strong plum and berry flavours balanced by moderate tannins on the palate.
Fermenting your wine on GenuWine Winery Crushed Grape Skins will enhance the bouquet and contribute soft velvety tannins for a round, juicy mouthfeel.
Food Pairings
Perfect with pasta and spicy sausage or BBQ chicken.
Winemaker's Trio White
This refined Pinot Grigio, Sauvignon Blanc, and Muscat blend exudes pretty floral aromas with hints of tropical fruit and lychee. Flavours on the palate include juicy pineapple, mango, peach, and lychee.
Food Pairings
Try with spicy Pad Thai, a summer salad or BBQ pork.
Italy Pinot Grigio
Opens with citrus, floral and pear notes. Hints of citrus and green apple on the finish. The palate is elevated with its perfect harmony of fruit and crisp acidity.
Food Pairings
Tastes great with grilled halibut, buttery shrimp, or a light crab salad.

6 week wine
$170 was $180
Amarone 
This classic Italian style wine is packed with rich raspberry, blackberry and cassis flavours. Deep, dark, and inviting, the finish is long, lingering, and full of ripe tannins.
Food Pairings
Tastes great with heavy meat like beef or lamb with gorgonzola sauce.
Australia 
Cabernet Shiraz Merlot
These three noble grapes, grown in Australia's warm climate, have produced an elegant wine with aromas of leather and black pepper and intense jammy flavours of blackberries.
Food Pairings
Great with roasted meat including beef, lamb or veal.
Italy  Rosso Grande
Deep ruby-garnet colour and spicy oak aroma and bursting with vibrant flavours of ripe berries and black cherries. This is classic, food-friendly Italian style red wine.
Food Pairings
Great with meaty pizza or pasta and tomato sauce.
Germany
Gewürztraminer
Spicy notes, typical of Gewürztraminer are complimented by aromas of roses, lychees and tropical fruit. Elderflowers bring out intense fruity characteristics.
Food Pairings
Enjoy with a chicken, almond and rice stir fry or perogies.
New Zealand
Sauvignon Blanc
This renowned New Zealand wine presents soft hues in the glass. It is crisp and light, with intense flavours of grapefruit peel, freshly cut grass, and light oak on the finish.
Food Pairings
Pairs well with fresh seafood such as oysters and scallops or goat cheese.
4 week wine
$132 was $142
Chardonnay 
A medium-bodied wine with a crisp, green apple bouquet, and hearty flavour. This is a true classic white wine at its finest.
Food Pairings
Try with lemon garlic tilapia or a spring vegetable salad.
Pinot Grigio 
A dry wine with overtones of green melon leading to a crisp, clean finish. A bouquet of honey and herbs completes the experience of this perennially favourite white.
Food Pairings
Tastes great with shrimp salad or spaghetti with spinach and lemon dressing.
Cabernet Sauvignon 
A hint of violet is present in the bouquet, typical of this variety. It's superbly enhanced with the addition of oak, and while it can be drunk young, it also does well with age.
Food Pairings
Great with roasted vegetable pizza or roast chicken and mushroom sauce.
Merlot 
A smooth, rich wine, medium dark in colour with notes of blackberry and currants. A hint of green olive in the bouquet will pleasantly surprise and delight you.
Food Pairings
Serve with homemade hamburgers or roast chicken, thyme and onion.
**************Vineco*************
6 week wine kits are skillfully blended from vintage-class varietal grape juices and concentrates from renowned wine producing countries around the world. Each kit comes complete with everything required to make exceptional wines to enjoy on any occasion. Legacy wines will develop even richer characters with traditional cellar aging.
Legacy
6 week wine
 $165 was $175
Chardonnay
A classic single varietal with deep straw yellow colour, a fruit-forward bouquet and a balancing touch of oak. Flavours of crisp, green apple and tropical fruit dominate the palate. Enjoy with stuffed turkey and roasted chicken.
OAK Yes
BODY Medium
ALCOHOL 13%
Vieux Château Du RoiTM
A big, full-bodied complex blend with a generous bouquet of ripe blackberries, black cherries and plums which also carry through on the palate. Your family will love this wine with stews, full-flavoured cheeses and grilled beef.
OAK Yes
BODY Med-Full
ALCOHOL 13%
KenRidge® Classic
4 week
$145 now $135
Merlot
Gentle fruity bouquet with subtle undertones of oak. A soft, mellow, fruity palate full of juicy blackberries and strawberries with light spice. A mellow, easy drinking wine that pairs well with roast beef and meat lovers pizza. Includes premium American oak.
OAK Yes
BODY Medium
ALCOHOL 12%
Traminer Riesling
An off-dry white wine with wonderful fresh fruit aromas and flavours of tropical fruit, peach and citrus, accented by floral and spice notes. A terrific sipping wine or aperitif. Enjoy with lightly spiced shrimp and chicken skewers, fresh spring rolls, or poached salmon with lemon dill sauce.
SWEETNESS 1
OAK None
BODY Medium
ALCOHOL 12.5%
************************************************************************************

SELECTION™ SPOTLIGHT 
The February Spotlight is on these Awesome Aussies:
6 week wine
$170 was$180
 Cabernet Shiraz
Grenache Shiraz Mourvèdre
 

Traminer-Riesling
***************winexpert****************

Wines from Australia, California, South America and Europe are represented in the World Vineyard Collection. These wines are perfect if you enjoy versatile wines which don't require extended aging but still offer distinct flavours from some of the great wine regions in the world.
$140 was $150
4 week wine
An ideal blending of three of California 's most popular grape varieties – Cabernet Franc, Cabernet Sauvignon, and Merlot, coming together to make a perfectly balanced, well- structured dry red wine. Notes of black cherry and coffee complement the smokey, herbal flavours, and hints of vanilla that round out this medium bodied wine , making it highly enjoyable for any occasion. Serve with a roast dinner or barbecued steak.
A unique blend of Colombard, Sauv Blanc and Semillon, combining lemon and grapefruit aromas with rounded fruit, redolent of melons and frsh figs to round out this crisp refreshing medium-bodied white.
***********************************************************************************
Vintners Reserve™

Easy to make and easy to enjoy, Vintners Reserve wines offer excellent quality flavours and aromas and there almost 30 available styles to choose from.
$140 was $150
4 week wine
This blend epitomizes the classic white wine style that Germany is renowned for, showcasing the Riesling grape with a delicately fruity bouquet and a lushly off-dry finish.
Ruby red, this classical Italian style wine features rich, spicy berry aromas in a very dry wine with a medium body, perfect with Italian cuisine.
******************************************
Available in March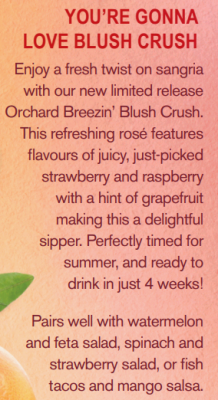 **************************************************************************